Summer Camp '23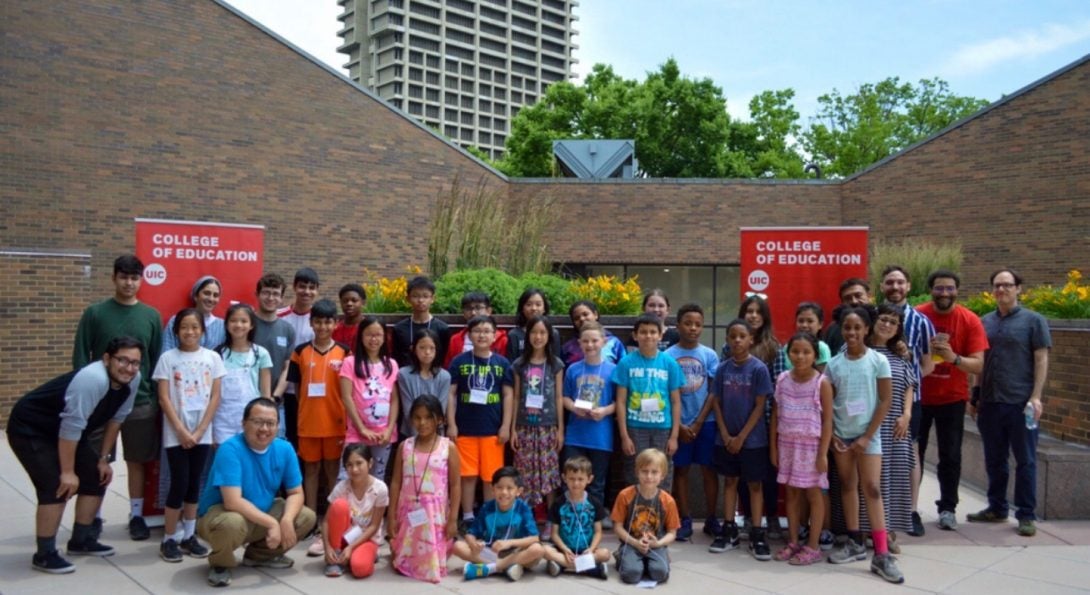 Besides our on-campus IT services at UIC College of Education, we are also committed to educating children through community-based computer projects that promote scientific and critical thinking.
ETL STEM camp focuses on Science, Technology, Engineering, and Mathematics. We are also involved in various Community Engaged Projects throughout the neighborhood to strengthen and support our local communities.
The Education Technology Lab (ETL) Science and Technology Summer Camp program at the UIC College of Education teaches students to work with computer and technology equipment (drones, race cars, 3D Printing, Double Robotics, Ozobot, Arduino, Raspberry Pi) and to take part in science projects in areas of Natural Science, Chemistry, Physics, Computer Science, and Engineering. UIC staff and student instructors teach camp sessions, extending volunteering opportunities to those interested. The summer camp participants engage in activities and lessons through the use of Robotics, Simulations, Programming, LEGO Robotics, Webpage Creation, Animation & Multimedia Creation during the camp.
The purpose of STEM Camps is to nurture the talent of today's youth through both innovative instructional methods and hands-on project-based learning. STEM camps help students develop 21st century skills such as problem solving, critical thinking and creativity. Since some of these skills are not taught in traditional schooling environments, STEM camps serve as a way for youth to explore their interests in these fields while developing skills they need for success in life.
Location & Time:
Each day, campers meet in the Education Technology Lab, College of Education, UIC. 1040 W Harrison Street. Room 2027.
Activities will be conducted Monday through Friday.
The camp starts at 10 AM and ends at 4 PM.
Meals:
We will not provide lunch; therefore, every student must bring his or her own lunch and will not be allowed to leave the building during lunch. We strongly recommend that participants get a good night's sleep and have a nutritious breakfast prior to attending each day. This will help them be alert and on task during the sessions.
Documentation and Evaluation:
During some sessions, we will document our STEM program with photos and video clips. Some of these will be included in a report that will be prepared for the Dean of the College of Education. We will also collect observational and short interview information from the students during their involvement; this information will help us improve our work. Participation is completely voluntary. Students will not be graded neither evaluated in any certain way.